Tag: grants
---
At College Financing Group, we love seeing students find creative ways to pay for college. We're especially proud when we hear about students from Western New York, where we're headquartered, capitalizing on their success to make college more affordable.
Adam Munich, a native of Orchard Park, NY and freshman at the Rochester Institute of Technology, recently did just that.
---
As the weak economy continues to impact how Americans spend their money, parents are putting less toward their children's college education than in previous years. Parents put an average of $5,727 from their income and savings toward each child's college costs in the 2012-2013 academic year, down more than a third from $8,752 in 2009-2010.
---
Many prospective and current college students don't realize that their income and assets are taken into account when they apply for financial aid, just like that of their parents. So should students be worried about earning too much money and receiving less financial aid if they have a job?
---
Funding for federal student aid programs was first authorized in the 1960s and 1970s and has increased dramatically to keep up with the skyrocketing costs of college. Yet, despite this increased aid, negative patterns of inequalities in college attendance, low completion rates, and high student debt continue. It's become clear that a new approach might be needed: one that focuses on college affordability and access.
---
"Because colleges have no problem filling seats, even with record-high tuitions, they felt no pressure to cut costs. Instead, colleges have spent more--fancy student centers, dining halls, athletic facilities, and many more administrative staff than ever before. These additions make college more expensive without increasing the value of a diploma."
-- Professor David Lin
It's news to no one that the cost of attendance at U.S. colleges has risen dramatically over the past thirty years, leading more students to rely heavily on student loans and become burdened by debt. In the video below, David Lin, an economics professor at American University, explains why tuition costs have increased so quickly […]
---
Students and families shopping around for the best college for their money might be initially turned off by most schools' high costs of attendance. But most students and families don't pay a school's sticker price–in fact, many pay significantly less, or even nothing, for their college educations. Check out this video to learn about net price calculators and how they can help you determine the real cost of college.
---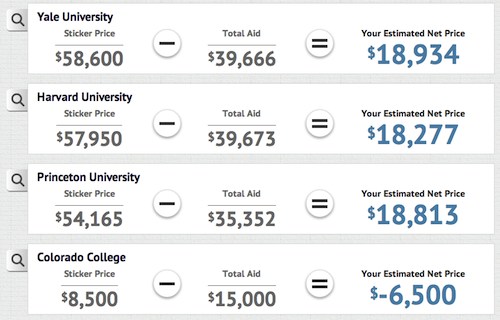 Comparing financial aid letters from different colleges can be confusing. It's hard to know exactly what you're paying for, what your final sticker price will be, and whether one offer is better than another. The College Abacus helps solve this problem, allowing you to compare the real cost of colleges after all aid has been applied.
---
---