Tag: repaying student loans
---
"This is the future. Employers that don't listen to this generation do it at their own risk."
-- Bruce Elliott, Director of the Society for Human Resource Management
While 401(K) contributions have traditionally been a benefit companies used to lure talented employees, innovative companies are beginning to offer a new benefit that their millennial employees need even more: help paying their student loans. A recent article in The Hechinger Report discussed the rise of employee benefit programs aimed at helping employees pay student debt. […]
---
What is student loan consolidation and how does it work?
We love this video from StudentLoanConsolidator.com, which explains the process in a unique way–by using Play-Doh to represent student loan consolidation.
---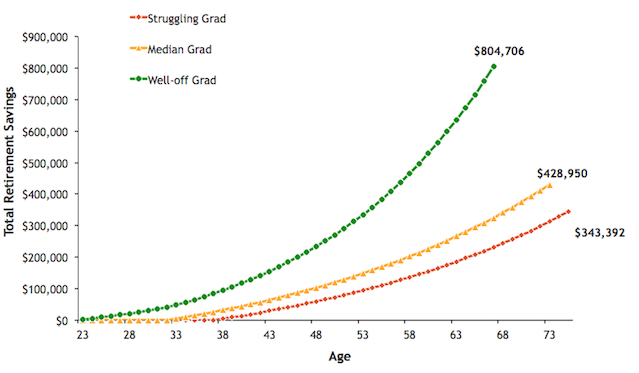 "The challenge of college debt is unique to millennials. The decline of pension plans, the uncertainty surrounding social security and the college debt epidemic have placed the onus on graduates to make conscious, forward-thinking decisions about their retirement."
-- NerdWallet
Millennials: have the stresses of work life got you looking forward to retiring on a beach somewhere? You're going to be waiting a while. How student loans affect retirement A new report from financial website NerdWallet says student loan debt could push the average retirement age to 73. That's 12 years later than the current […]
---
If you graduated in May, November means the end of your six-month grace period on your subsidized Direct Subsidized and Unsubsidized student loans.
Watch the video below to find out to expect during repayment, and check out the top 4 things to know about repaying your student loans.
---
Cinderella never had to worry about student loans. And she got to live in a castle and had her own room. She might have had to work for her room and board, but her situation sounds pretty great compared to the typical college student's cramped living quarters.
And even if Cinderella had gone to college, she had a fairy godmother to step in and wipe away her student loans.
---
---