Tag: college affordability
---
We've written in the past how net price — the price you actually pay for college after financial aid, grants and scholarships — is more important than a college's published price.
Many colleges have high sticker prices, but end up being affordable because they have generous financial aid policies.
Unfortunately, because the rise in financial aid hasn't kept up with rising costs, the net price of college has risen for the sixth straight year, Money reports.
---
"After correcting for a student's pre-existing talent, ambition, and habits, it's hard to show that highly selective colleges add much earning power, even with their vaunted professors, professional networks, and signaling."
-- Derek Thompson, The Atlantic
True or false: A good student who attends Yale will have much better outcomes (higher salaries and more job opportunities) than a good student who attends a state university. If you answered true, you're wrong. And this widely-held belief is one of the main reasons families and students end up overpaying for "elite" universities. Up […]
---
"If you're making $10,000 to $30,000 a year, and you need 10 percent to 15 percent of family income to attend community college, it's just not going to happen."
-- Joni Finney
We've written previously about how college overall has gotten more expensive, and even though financial aid has reached record levels, it still hasn't been enough to make up the difference for most families, particularly low-income ones. And a new study from the Institute for Research on Higher Education at the University of Pennsylvania confirms that college […]
---
Once again, college tuition rose faster than inflation this year, the College Board reports.
Average college tuition and fees rose about 3% from last year, even though the government reports there has been basically no inflation in the rest of the economy over the past 12 months, according to Money.
---
With the cost of college topping $60,000 at some schools, it may seem impossible for regular families to afford higher education.
But there are still plenty of quality colleges for half the cost. Kiplinger recently released a list of the best value colleges that still cost under $30,000 per year, all of which provide a great bang for your tuition buck.
---
"Parents realize the economy hasn't changed much in the past six years, and they're shopping for college like they would any other major product. This isn't an emotional transaction anymore."
-- CFG Co-founder Andy Leardini
With the cost of college rising, more parents are beginning to look at the return on investment of where they send their children to college and evaluating whether schools are worth their high costs. As College Financing Group co-founder Andy Leardini told Buffalo Business First in a recent article, the college decision has become like […]
---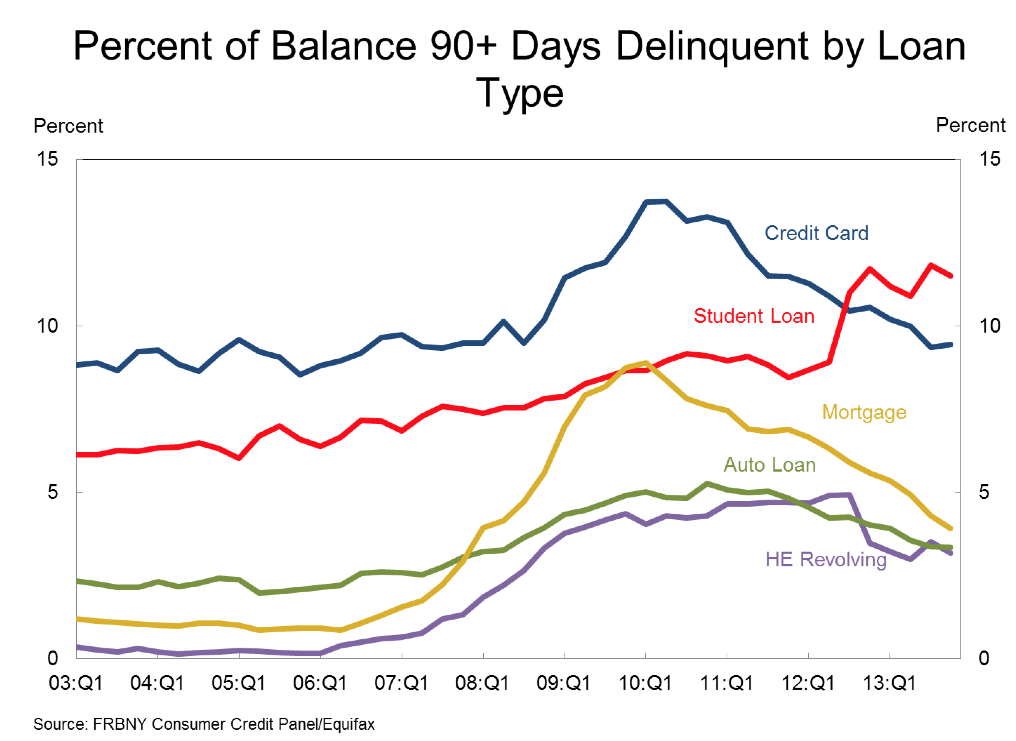 More bad news for student loan borrowers: student loan debt is growing faster than any other type of debt–and more and more borrowers are falling behind on their payments.
According to the most recent consumer debt report by the Federal Reserve Bank of New York released on February 18, 2014, student loan debt is outpacing debt from credit cards, mortgages, auto loans, and HE Revolving loans.
And that's not all–the percentage of student loans that are 90+ days delinquent is growing fastest as well.
---
"With the recent explosion of student debt, it is clear we need a new approach to how students pay for college."
-- Rep. Jay Hoffman (D-Swansea)
Imagine if you took out $30,000 for college and that's all you had to pay back. For most student loan borrowers, that's not the case. Due to compound interest, that $30,000 can easily turn into $40, $45, $50,000 or more by the time the graduate has paid it off. The burden of student loan interest […]
---
---