Tag: student loan debt
---
What's keeping millennials up at night? It's not just Netflix–it's student debt.
NPR's Morning Edition recently asked young adults, members of the millennial generation, what their biggest concerns were.
The results were telling: almost two-thirds responded that college debt was their biggest worry.
---
Good news (finally!) for young college graduates.
According to a survey released on April 16, employers said they plan to increase the number of college graduates they hire this year by nearly 9 percent.
---
And you thought undergraduate student loan debt was bad.
According to a new report by the New America Foundation, the median debt load for borrowers leaving school with a master's, medical, law or doctoral degree was $57,600 in 2012–about twice the average amount today's typical undergrad leaves college with.
This represents a 43% increase from 2004 to 2012 when adjusted for inflation.
---
"This is real money that says America invests in those who get an education."
-- Sen. Warren (D-MA)
Jennifer Lawrence might be America's BFF, but Senator Elizabeth Warren (D-Massachusetts) is the modern college student's best ally. Her latest student loan proposal aims put a large dent in the nation's current $1.2 trillion student loan debt and provide relief for struggling borrowers. Student loan plan could save borrowers $1,000/year As part of the plan, current student loan borrowers […]
---
In a press release issued February 25, student loan servicer Sallie Mae announced that it will separate into two distinct companies—Navient and Sallie Mae—in fall 2014.
If you have a loan through Sallie Mae, there may be some changes, but the federal government assures borrowers the changes will be minimal, and no changes will occur until later this year.
Here are the 6 things you need to know if you have a student loan serviced by Sallie Mae.
---
We've discussed the benefits of attending college at length, but we're always quick to point out that even though college degrees are a good investment in your future, it doesn't mean they're worth going hundreds of thousands of dollars into debt for.
This funny video from YouTube personality Ryan Higa shows the downsides of college for many students and graduates: underemployment, massive student loan debt, stress, and studying subjects that don't apply to your future career.
---
For college graduates and adults struggling with student loan repayment, the holiday season can be difficult. So many gifts to give, so little money in the bank account.
But a new service from Tuition.io lets family and friends ease the burden of student loan borrowers during the holidays.
---
"You can refinance an auto loan or a home loan.But when you're locked in on a student loan, you cannot refinance. It makes no sense."
-- Wisconsin State Senator Dave Hansen
If you have good credit, you can refinance your mortgage or car loan. Why not your student loans? A new bill called "Higher Ed-Lower Debt" has been introduced in Wisconsin as a way of helping people with student debt reduce their interest rates so they can pay off their debt faster. If approved, it would the […]
---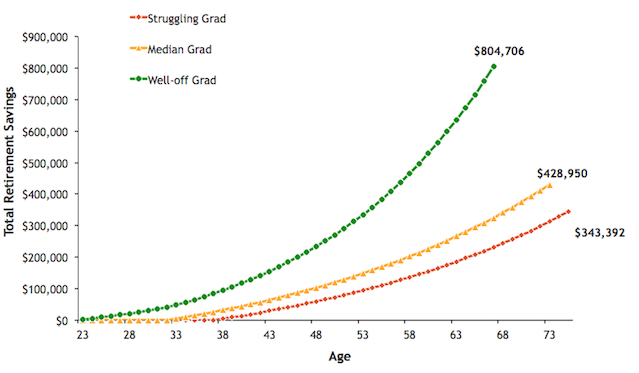 "The challenge of college debt is unique to millennials. The decline of pension plans, the uncertainty surrounding social security and the college debt epidemic have placed the onus on graduates to make conscious, forward-thinking decisions about their retirement."
-- NerdWallet
Millennials: have the stresses of work life got you looking forward to retiring on a beach somewhere? You're going to be waiting a while. How student loans affect retirement A new report from financial website NerdWallet says student loan debt could push the average retirement age to 73. That's 12 years later than the current […]
---
If you recently graduated college, remember that your grace period doesn't last forever. Come fall, 2013 college graduates will start receiving student loan bills from their lenders.
The Buffalo News offers some great tips on paying back your student loans and outlines the different types of repayment programs.
---
---