Tag: unemployment
---
And you thought undergraduate student loan debt was bad.
According to a new report by the New America Foundation, the median debt load for borrowers leaving school with a master's, medical, law or doctoral degree was $57,600 in 2012–about twice the average amount today's typical undergrad leaves college with.
This represents a 43% increase from 2004 to 2012 when adjusted for inflation.
---
"In a world where about half of humans live on less than $2.50 a day, the opportunity to learn and study in a formal, dedicated way is still a gift, even if it has become a very expensive one."
-- John Green
As we've written in the past, the high cost of college has many people questioning whether attending is worth all of the debt and time that could be spent working and making money. With the rise of MOOCs and other forms of online education, some have argued that a formal college education is no longer […]
---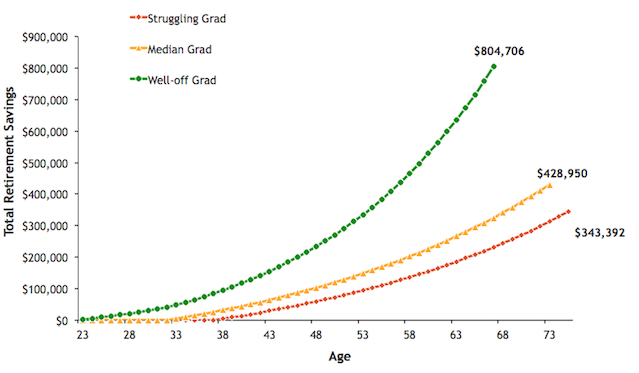 "The challenge of college debt is unique to millennials. The decline of pension plans, the uncertainty surrounding social security and the college debt epidemic have placed the onus on graduates to make conscious, forward-thinking decisions about their retirement."
-- NerdWallet
Millennials: have the stresses of work life got you looking forward to retiring on a beach somewhere? You're going to be waiting a while. How student loans affect retirement A new report from financial website NerdWallet says student loan debt could push the average retirement age to 73. That's 12 years later than the current […]
---
"Nearly 90 percent of the public thinks the U.S. higher-education system needs to change for the nation to maintain a globally competitive workforce."
-- Hechinger Report
Are colleges adequately preparing graduates to enter the workforce? Why are so many college graduates unemployed? Is online education as effective as traditional in-person classes? A new survey from Northeastern University attempts to answer those questions and more. College graduates not ready for a career The study revealed that nearly two-thirds of Americans believe the higher […]
---
After adjusting for inflation, students are borrowing twice the amount they borrowed a year ago. Congress' recent neglect to keep student loan interest rates from doubling to 6.8% could cost students as much as $5,000 more over the next 10 years.
Scholarslip, an excellent documentary about the student loan crisis, explores the real stories of young people facing their student debt.
---
With the cost of college skyrocketing over the past 30 years, taking out student loans has become a necessary evil for many students to attend college. The problem is, many borrowers don't fully understand the terms of the loans they are taking out or what repayment is really like–until graduation hits and they're faced with an expensive student loan bill every month.
In this insightful video from The Field, real college students share their thoughts about their student debt, why they took out student loans, and how they plan on repaying their debt in the future.
---
"He wants his sons to have the same quality of education he did, and the professional advantages that came with it. But he does not see how this is possible. When his sons are old enough for college, he will still be paying back his own student loans. With wages stagnant and tuition fees well outpacing inflation, there is little chance he will be able to afford their education. His children will be back where he started."
-- Sarah Kendzior
While the millennial generation has been labeled as lazy, entitled, and narcissistic, many people neglect to realize that this generation has entered a world with shrinking employment opportunities and mobility. For young people, jobs (especially good ones) are hard to find, and many are saddled with tons of college debt. And for young adults who are […]
---
"Because colleges have no problem filling seats, even with record-high tuitions, they felt no pressure to cut costs. Instead, colleges have spent more--fancy student centers, dining halls, athletic facilities, and many more administrative staff than ever before. These additions make college more expensive without increasing the value of a diploma."
-- Professor David Lin
It's news to no one that the cost of attendance at U.S. colleges has risen dramatically over the past thirty years, leading more students to rely heavily on student loans and become burdened by debt. In the video below, David Lin, an economics professor at American University, explains why tuition costs have increased so quickly […]
---
It's no secret that finding a job as a college graduate is tougher than ever. This infographic explains some of the reasons it's so difficult for young graduates to find good jobs and pay back their student loans.
---
A majority of the Class of 2013 graduated with student loans. In the video above, three new graduates talk to CBSNews.com how their loans are influencing their plans for the future.
---
---